We strive to make Sterling an employer of choice through initiatives that will benefit our colleagues far beyond the workplace.
With a high percentage of colleagues that speak Spanish as their primary language, Sterling offers ESL classes during the workday to eliminate potential barriers to participation such as time and cost.
Employees are paid for their time spent participating in the class
Nearly 185 Hispanic Sterling employees have completed the class
Sterling ESL Program includes promotion incentives for graduates
ESL classes have been offered at Sterling for the past five years
In conjunction with South Suburban College, Sterling recently awarded 19 employees with an ESL Certificate. The 2019 class met twice a week for 19 weeks.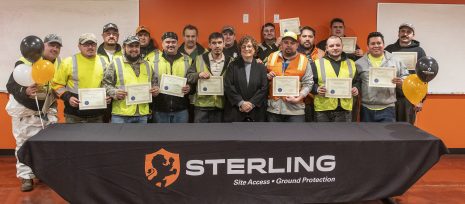 "I'm exceptionally proud of our colleagues," said Carter Sterling, CEO of Sterling. "It truly warms my heart to see our teams advancing in their personal lives as well as advancing their potential careers here with Sterling."
Colleagues: Building a Stronger Workforce
The Sterling Mission Statement clearly defines that for our company to be successful we must create a culture where all our stakeholders; colleagues, community, company and customers, can thrive. The only way to guarantee that happens is by embracing diversity and inclusion as a competitive advantage and fostering personal growth.
For Sterling to bring world class site access solutions to our customers, it is imperative that we build teams that can look at the same challenge from different perspectives, whether that means culture, background, race, gender, or more. It's from this dialogue and collaboration that innovation and customer value will be found. To bring this to life, Sterling has implemented a strategy to ensure diversity and inclusion are central to how we attract and retain a diverse workforce.
At Sterling, we strongly believe that talent comes in every color, gender, origin, religion, sexual orientation, and physical capability imaginable. For this reason, we actively seek employees that share our core values and demonstrate a growth mindset as they further their careers. 
Living the Values
We expect our employees to live up to our values every day. Our values drive every decision and interaction. We're committed to integrity, teamwork, and respect — but we also cultivate optimism, encouraging team members to assume good intent and pursue opportunities to innovate and lead. We empower our people by establishing trustworthy relationships with each other and our customers.
If you are interested in living these values and joining our team, Click here to see open opportunities.