Sterling celebrated the Grand Opening of its second cross-laminated timber (CLT) mat manufacturing facility with Texas Governor Greg Abbott during a ceremony Monday, October 21, 2019, in Lufkin, Texas. The 350,000-square-foot automated manufacturing facility will annually produce approximately 200,000 TerraLam CLT mats for use on rights-of-way in the power transmission and distribution, oil and gas, and general construction industries.
"I am proud to welcome Sterling to the city of Lufkin, and I am grateful for their commitment to this community," said Governor Abbott. "Sterling's investment in Lufkin means more jobs and economic growth for this entire region. Working together, we will bring more prosperity to east Texas and keep our state the economic engine of America."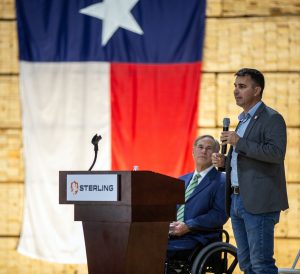 The event included remarks from Governor Abbott and Sterling CEO Carter Sterling, the third generation of the Sterling family to run the company. Guests also toured the facility to learn step-by-step how TerraLam CLT mats are produced with southern yellow pine lumber from local managed forests.
"We are excited to share what we have been building here in Lufkin with the community and our customers today, and I'm proud of our team here in Lufkin in making our dream of building one of the largest CLT manufacturing facilities in North America a reality," said Sterling CEO Carter Sterling.
Sterling's Lufkin manufacturing facility will produce TerraLam CLT mats on their automated line. TerraLam mats are used to create temporary access roads and working platforms.
TerraLam mats are built with southern yellow pine found in managed forests all over east Texas. When built with a specialty adhesive and proprietary process, TerraLam mats last longer and are more sustainable than traditional bolted timber mats.
With the second manufacturing facility opening in Lufkin, Sterling is now the largest producer of CLT in the world. Over 400,000 CLT mats will annually be manufactured in the two automated CLT lines in Lufkin and Sterling's first CLT facility near Chicago.
"It's a great feeling to be part of the Lufkin community. We are thankful to all of our partners and supporters here in Lufkin, Angelina County, and the great state of Texas," said Carter Sterling. "As I told our team today, we shouldn't just celebrate today. We should celebrate every day we work safely and do our best to create TerraLam mats that make customer's job site safer and more efficient."