Mat weight is an underappreciated, yet highly critical, piece of  your overall ground protection plan. The weight of the mat dictates how many trucks you will need to get your ground protection mats on site and how quickly you can lay down or move the mats on the right-of-way.
Heavy mats mean more trucks. Every extra truck needed to bring the mats to your site is an additional expense and an additional CO2 burden. Every extra hour on the right-of-way laying mats is an additional expense. Those costs add up, fast.
Because TerraLam Cross-Laminated Timber mats are built with southern yellow pine, they are far lighter than traditional mats created with various hard woods. Through this lighter weight, TerraLam dramatically lowers your transportation costs and reduces CO2 emissions by reducing the number of trucks you need to ship your mats.
A recent aerial picture from our Demo Day  shows the disparity between TerraLam CLT mats and traditional timber and access mats. Each of these mat roads represent a single truckload of new mats.
18


4'x16 Timber Mats

72 Linear Feet

19 


8'x16' TerraLam 500 Mats

152 Linear Feet

20 


8'x14' Bolted Access Mats

160 Linear Feet

36 


8'x14' TerraLam 300 Mats

288 Linear Feet
Fewer Trucks Means Lower Costs and Less CO2
Let's take our TerraLam 300 mat as an example. To deliver a single mile of access mats, you will need 15 more trucks when you use bolted mats instead of TerraLam.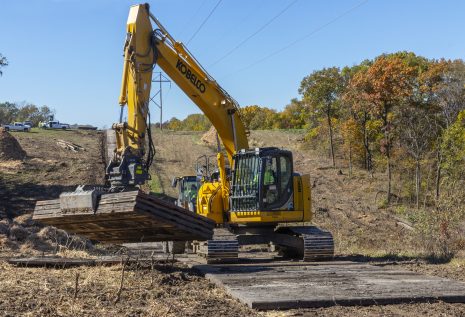 Now ask yourself: What is the additional freight cost for 15 trucks? And the costs for your operators to wait for trucks to arrive and then be unloaded?
Let's also consider the overall environmental impact. Those 15 extra trucks create an additional 28.5 metric tons of CO2 emissions entering the atmosphere.
Beyond CO2 emissions reduction, TerraLam is a far more sustainable product than traditional mats. Click here to read the TerraLam Sustainability Story.
Tougher Mats, Less Touches
4' Timber mats are heavy, needing more than double the number of trucks to bring out one mile of timber road instead of using 8' TerraLam 500 mats. Because the 8' mat is double the width, you will need half as many touches when laying the road along the right-of-way creating a significant cost and time savings.
Even though they weigh less, TerraLam 500 CLT mats with Cross-Grain technology stand up to heavy, tracked vehicles over the lifetime of a project with ease.  Take a look at this recent video of an Accelerated Life test between TerraLam and Timber mats.